Amanda Quick Books, Also Writing as Jayne Ann Krentz, Jayne Castle
Books written as: Jayne Ann Krentz | Amanda Quick | Jayne Castle | Stephanie James | Jayne Bentley | Jayne Taylor | Amanda Glass
On this page: Series and Connections | My Favorites
The good thing about historical romance (or period romance) is that it doesn't age in the same what that novels with contemporary settings do. For that reason, Jayne Krentz's Amanda Quick historicals have stayed current in a way that her older contemporary romantic suspense hasn't managed. Therefore, don't hesitate to get all the old books and read from the earliest Amanda Quick novel to the most recent. Several of her older stories are my absolute favorites.
Until recently, most Jayne Ann Krentz and her Amanda Quick novels have been stand alone, but she's started the Arcane Society series of novels and these share much more in common. They're still stand alone novels. I prefer JAK's Amanda Quick novels. They're much sexier than the contemporary stuff she writes under JAK.
Also, I have a page that details some summary information about pseudonyms for Amanda Quick.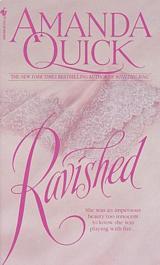 Seduction
Surrender
Scandal
Rendezvous
Ravished – Hands down, my all-time favorite Amanda Quick novel
Reckless
Dangerous
Deception (Jared Ryder, Viscount Chillhurst, and Olympia Wingfield) – Second best Amanda Quick novel IMO
Desire
Mistress
Mystique
Mischief
Affair – Another favorite!
With This Ring (Leo Drake, Earl of Monkcrest, and Beatrice Poole, Mrs. York, authoress of "horrid novels")
I Thee Wed
Wicked Widow
Slightly Shady
Don't Look Back
Late for the Wedding
The Paid Companion
Wait Until Midnight
Lie by Moonlight – Excellent
Second Sight
The River Knows – A recent addition to my list of favorites
The Third Circle
The Perfect Poison :: There's a video book trailer for The Perfect Poison
Books by series or connection and interconnected stories
My Favorites
Ravished remains my most beloved Amanda Quick novel.
The Beast of Blackthorne Hall is beyond compare, and Harriet is my favorite heroine of all the great Amanda Quick novels.
I adored the chemistry between Gideon and Harriet, but I think the thing I liked most about the book was Harriet's unrelenting faith is Gideon's goodness and honor.
The opening contains some of my favorite lines of all time.
From the opening of Ravished by Amanda Quick

It was a scene straight out of a nightmare. Gideon Westbrook, Viscount St. Justin, stood on the threshold and gazed into the cheerful little anteroom of hell.

There were bones everywhere. Savagely grinning skulls, bleached ribs, and shattered femurs were scattered about like so much devil's garbage. Chunks of stone with teeth and toes and other odd bits embedded in them were stacked on the windowsill. A pile of vertebrae littered the floor in one corner.

In the center of the unholy clutter sat a slender figure in a stained apron. A white muslin cap was perched askew atop a wild, tangled mane of chestnut-brown curls. The woman, obviously young, was seated at a heavy mahogany desk. Her slender, graceful back was turned to Gideon. She was sketching busily, her entire attention focused on what appeared to be a long bone embedded in a chunk of stone.

From where he was standing, Gideon could see that there was no wedding band on the supple fingers that held the quill. This would be one of the daughters, then, not the widow of the late Reverend Pomeroy.

Just what he needed, Gideon thought, another rector's daughter.

— From the opening of Ravished by Amanda Quick
Another favorite is Deception, which I recently reread. Olympia and Jared are a fun couple and I loved the pirate themes in the story. It's also another story where there's family involved–loving, if misguided family–and I really enjoy stories that have that added depth.
The River Knows is my most recent favorite for several reasons. The suspense was neatly done and the hero, Anthony Stalbridge, and heroine, Louisa Bryce, were interesting. I liked that the hero had a loving family–many of Quick's heroes aren't that lucky.
Most of these books are available as ebooks.
Amanda Quick Books
The Perfect Poison
The Third Circle
The River Knows
Second Sight
Lie By Moonlight
Wait Until Midnight
The Paid Companion
Late for the Wedding
Don't Look Back