The Arcane Society Series
Contemporary Setting
Book #5Jayne Ann Krentz weaves together historical, futuristic, and contemporary stories in her tales of the Arcane Society, writing as Jayne Ann Krentz and her pseudonym Amanda Quick and Jayne Castle.
Click the image to buy or read reviews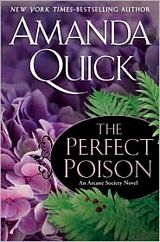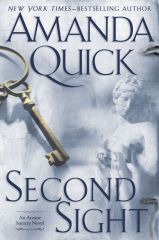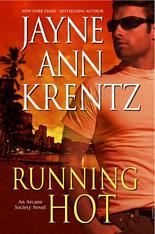 An interesting aside is that the newest Jayne Castle book, Dark Light, is set in the Harmony universe and as usual revolves around psychic ghosts and alien ruins. In it, there is a clear tie to the Arcane Society. So it's not an Arcane Society book, but it's definitely linked.
[Update: The link is complete. With Midnight Crystal, Jayne Castle's books are now part of the Arcane Society novels.]
Historical Setting
Book #1
Like many other of Amanda Quick's most recent historical romance novels, this particular book was heavy on the suspense plot and light on the romance. If that's what you most like, then you're going to be more than happy with this book. As for me, I'd rather have had the romance.
The thing I've always love most about Amanda Quick books is how much the hero needs the heroine, and how much the heroine needs the hero. That's been lacking lately, but not just in Amanda Quick's novels. Many authors have taken to writing more "mainstream" and less romanticism into their works. Lately, I've seen that trend in many Amanda Quick novels.
Gabriel was a great guy, but he wasn't a particularly enthralling hero. Venetia was an interesting female, but she lacked much of the singularity that makes Quick's heroines so appealing to me.
That's not to say this was a bad book. It just wasn't a great book. As the start of a series, this book was good. As a romance, it lacked the impact and emotionalism that I needed to completely enjoy the romance between Venetia and Gabriel. The book read quickly but it's not one of the many Amanda Quick novels I'll be rereading anytime soon.
Contemporary Setting
Book #2
White Lies introduces the psychic detective agency J&J (Jones and Jones) and the Arcane Society into a contemporary 21st century setting. The second book in the Arcane Society series, White Lies is a fast-moving tale of romance and mystery as Claire Lancaster and Jake Salter try to discover who might be out to harm Claire and put the blame on her for murder.
Claire's ability to tell truth from deception is all that saved her half sister from death at the hands of her husband eight months prior. Now Claire is back in Arizona at her father's behest and she's suddenly become the target of someone out for revenge. Jake Salter works for the psychic detective agency of J&J as a consultant using his psychic abilities to work a very important case. Claire wasn't supposed to be a factor, but now she's here and Jake has an immediate desire to get to know her very well indeed.
Jake is a somewhat less than politically correct hero with a take charge attitude and a talent for dealing with danger. I liked him enormously and think his attitude is mostly to blame. I prefer Amanda Quick's historicals for this very reason usually, because I prefer the strong, take-charge heroes–at least those who have an equally strong appreciation for the heorine and her abilities.
Compared to Sizzle and Burn and Zack Jones, Jake Salter is much more my style. I'm sure this is one big reason why I prefered White Lies to the more recent addition Sizzle and Burn.
As for Claire, her take on lying is a key part of the story, and honestly, this is what made her such a great character. Krentz did a fabulous job of building Claire's personality, not to mention the very visual descriptions. This was one heroine that stands out in my mind, and although I love Jayne Krentz's and Amanda Quick's heroines, even I can admit that sometimes there just isn't that much to differentiate them. In this case, though, Claire is well-defined and memorable.
I liked White Lies, but I will warn you that this isn't a character focused book. The focus stays firmly on the mystery and suspense plot. The romance is hot, but you won't wonder if the characters will get together, only if they'll survive to enjoy it.
Nevertheless, White Lies was an excellent and engaging read. Highly recommended.
Contemporary Setting
Book #3
Certainly not the strongest book of the series, Sizzle and Burn is nevertheless a nice read. I almost feel like I'm insulting JAK when I qualify any story she's written as less than stellar, but the fact is, I compare everything she writes to the best of her works, and those best are spectacular indeed.
In this addition to the Arcane Society, Raine Tallentyre hears voices, but they're all in her head. The voices of victims, murderers and the like lead her to save an intended victim of a serial killer who is locked in the basement of Raine's desceased aunt's home. Zack Jones is hired by the Arcane Society's PI firm, J&J. He has visions. Together, Zack and Raine must figure out the mystery surrounding the death of Raine's aunt. Woven throughout is the continuing arc of the founder's formula and the dark organization that's developed a way to produce and use the psychic energy enhancing drug.
Although the two leads in this story were intriguing, the plot was a little flat and the twists seem to come out of nowhere, with little to tie it all together. However, I can't stand to read a series and skip a book, and the rest of the books in this series certainly make it hard to pass any new addition to the tales of the Arcane Society.
There's some interesting byplay between Zack and Raine that gives the book a readability factor that might have been missing otherwise. A weak plot for Krentz but an entertaining read anyway.
Historical Setting
Book #4
The Third Circle is my favorite historical entry in the Arcane Society books. I liked Second Sight, but I didn't love it, not the way I usually love Amanda Quick's novels. This book dealt much more heavily with the romance between the characters, Leona Hewitt and Thaddeus Ware.
Leona is can work psychic energy through crystal and Thaddeus is a strong mesmerist. Leona is mostly immune to his psychic powers, and that's a great thing for Thaddeus, since his abilities have made it difficult for him to find love.
They meet when they both happen to be looking for a very special crystal and end up standing over the dead body of a woman who appears to have become the latest victim of The Midnight Monster.
This book had both a mystery and a romance that entertwined nicely. I enjoyed Leona's spirit, and Thaddeus is an intriguing hero.
I learned more about the mysterious Mr. Pierce and Adam in this book, and although they aren't my favorite characters (they often bring out a little too much womens' lib preachiness in Amanda Quick's writing), I found that in this book, they started to grow on me—somewhat.
My only complaint about this one was that I wanted a bigger ending. I won't say too much about that to avoid spoiling the book for another reader, but I thought Leona's powers could have been used much more effectively at the end so that I could have the big ending I wanted. Ravished and other older Amanda Quick novels have very well done high-impact endings. That's what I would have liked to have seen here.
This is a book I could enjoy rereading.
Contemporary Setting
Book #5
Historical Setting
Book #6
There's a video book trailer for The Perfect Poison, although it's not one of the best. I enjoyed this book a lot, and in a way it reminded me of an earlier Amanda Quick book, Wicked Widow, because in both books the heroine is believed to be involved in wicked deeds.
Contemporary Setting / Hawaii
Book #7
Dreamlight Trilogy Book #1
Burning Lamp
Historical Setting
Book #8
Dreamlight Trilogy Book #2
Futuristic/Paranormal Setting
Book #9
Dreamlight Trilogy Book #3
In Too Deep
Contemporary Setting
Book #10
Looking Glass Trilogy Book #1
Historical Setting
Book #11
Looking Glass Trilogy Book #2
Futuristic/Paranormal Setting
Book #12
Looking Glass Trilogy Book #3