Due out April 2012, Crystal Gardens is the first of a new series called Ladies of Lantern Street.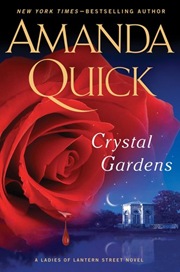 (Click the image for book details or to order the book.)
Although the book sounds interesting, I'm not a big fan of the cover for this book, which is sad, because I've always loved the covers for Amanda Quick's book. Whoever designed this one should have spent more time on it. Or maybe it's prettier when you see it in person. One can only hope.
Right now, the book is pretty heavily discounted, so it's definitely the right time to go ahead and buy Crystal Gardens if you're a fan. I own almost every one of JAK's Amanda Quick books, with my favorites being Mistress and Ravished, both excellent examples of near perfect books of romance and mystery.
Crystal Gardens, the Start of a New Series
Ladies of Lantern Street is the name of the series that begins with Crystal Gardens. Book #1 is the story of Evangeline Ames and Lucas Sebastian.
Book Description
Evangeline Ames has rented a country cottage far from the London streets where she was recently attacked. Fascinated by the paranormal energy of nearby Crystal Gardens, she finds pleasure in sneaking past the wall to explore the grounds. And when her life is threatened again, she instinctively goes to the gardens for safety.

Lucas Sebastian has never been one to ignore a lady in danger, even if she is trespassing on his property. Quickly disposing of her would-be assassin, he insists they keep the matter private. There are rumors enough already, about treasure buried under his garden, and occult botanical experiments performed by his uncle — who died of mysterious causes.

With Evangeline's skill for detection, and Lucas's sense of the criminal mind, they soon discover that they have a common enemy. And as the energy emanating from Crystal Gardens intensifies, they realize that to survive they must unearth what has been buried for too long…