I read Darkfever by Karen Marie Moning recently, and I loved it. :) I haven't read any of Moning's previous novels that I can recall, but I'll have to read future releases as soon as I catch up on this series. Darkfever is that good.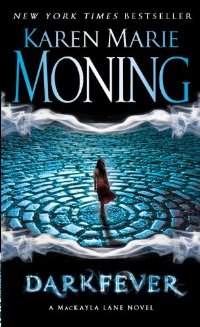 Darkfever
Fever Series Book 1
Darkfever by Karen Marie Moning (Paperback)
Darkfever by Karen Marie Moning (Hardcover)
Darkfever by Karen Marie Moning (Kindle)
Darkfever by Karen Marie Moning (Other ebook formats)
Book Description
Book One of the MacKayla Lane series. MacKayla Lane's life is good. She has great friends, a decent job, and a car that breaks down only every other week or so. In other words, she's your perfectly ordinary twenty-first-century woman. Or so she thinks… until something extraordinary happens.

When her sister is murdered, leaving a single clue to her death—a cryptic message on Mac's cell phone—Mac journeys to Ireland in search of answers. The quest to find her sister's killer draws her into a shadowy realm where nothing is as it seems, where good and evil wear the same treacherously seductive mask. She is soon faced with an even greater challenge: staying alive long enough to learn how to handle a power she had no idea she possessed—a gift that allows her to see beyond the world of man, into the dangerous realm of the Fae….

As Mac delves deeper into the mystery of her sister's death, her every move is shadowed by the dark, mysterious Jericho, a man with no past and only mockery for a future. As she begins to close in on the truth, the ruthless Vlane—an alpha Fae who makes sex an addiction for human women—closes in on her. And as the boundary between worlds begins to crumble, Mac's true mission becomes clear: find the elusive Sinsar Dubh before someone else claims the all-powerful Dark Book–because whoever gets to it first holds nothing less than complete control of the very fabric of both worlds in their hands….
In Dark Fever, Mac discovers that the world she's been living in is made up of human and Fae. She can see them, in all their terrible guises because Fae glamours don't work on her.
Dark Fever is an urban fantasy, with a dash of romantic tension, but no real romance to speak of. It's the beginning of a strong and compelling paranormal series set in the present, but in a world occupied by terrible beings out to take over our normal world and use humans as food, energy, playthings, and… worse.
Mac's story is told in first person. The action is quick, frequent, and incredibly entertaining. This is no slow read. I started on page 1 (because I freely admit sometimes I don't) and had barely taken a breath before the end of this fantastic book snuck up on me. (Yes, yes, I know. Not in the literal sense, okay? Dark Fever is a full length novel.)
Don't read this book if you don't intend to get sucked into a lengthy series (5 books and counting) because you're likely to find yourself on a reading binge just as I did.
And if you like questionable alpha heroes who might just turn out to be villains, you might find yourself addicted to discovering whatever you can about Jericho Barrons and hoping for even a little more action of the romantic kind. :)