More about the Ghost Hunter Books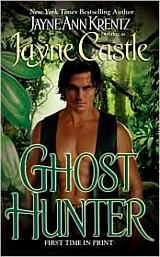 Buy books in the Ghost Hunter series by clicking the book title.

Cadence City – Emmett London, Lydia Smith
The characters from this book have enough unresolved issues that having them show up again in the second part, After Glow, makes perfect sense.
Cadence Guild – Emmett London, Lydia Smith
One of my favorite things about this book was getting to discover Emmett's secrets. I truly enjoyed the longer length of this two book tale.
Lydia Smith still doesn't know what happened to her during her "lost weekend" while she was trapped in the catacombs beneath Cadence City. Emmett London has a secret past that he's never bothered to fill Lydia in on. When Lyndia finds an old acquaintance dead of an apparent drug overdose, her dreams of her lost weekend lead her to believe she might be onto a murder.
Aurora City Guild, Cadence City – Cooper Boone, Elly St. Clair
I tend to like the stories where the hero and heroine already know each other at the story's beginning, at least as written by Jayne Castle (Krentz and Quick). She has a knack for bringing together the storyline without leaving me feeling that I'm missing something important. She does that here.
Elly St. Clair and Cooper Boone are already engaged when the story opens, but that doesn't last long, as Elly is just about to give Cooper's ring back to him. She believes he has asked her to marry him because of her family connections. He's recently been made head of the Aurora City Guild, and Elly is ready to take herself and her broken heart off to Cadence City. She does, but he follows and what ensues is an exciting story of alien catacombs and ghost hunter goodness.
I really enjoyed this one. Cooper is a sexy hero, and Elly is an interesting heroine, quirky as usual for Jayne Castle books, but that's one of the reasons I love 'em. If I wanted real-to-life I would read more biographies.
Cadence City, Frequency City Guild – Davis Oakes, Celinda Ingram
Silver Master is an excellent addition to the series. Davis Oakes isn't a rising Guild Boss nor an ex-Guild Boss, which is an interesting change, but he is certainly a sexy investigator. The dust bunnies play an important role in this one, and Detective Alice Martinez from After Glow puts in an appearance. After having read all the books through Dark Light, I can see an interesting pattern of connections between characters and books that has developed. That's the reason I like series. When an author takes advantage of the possiblities a series offers, she creates a universe for her readers that draws us back again each time a new book is released.
Celinda Ingram is a matchmaker with a powerful talent for reading people's psi waves. Her abilities allow her to match people successfully. A past scandal very nearly put an end to her career and she's not ready to end up in the middle of another. Davis Oakes is a security specialist who's currently working an investigation for Cadence City Guild Boss Mercer Wyatt (introduced in the After Dark and After Glow books). He's looking for an artifact that Celinda bought and the case has turned deadly.
I really liked Celinda, and she turned out to be a surprising character. This isn't a book you'll want to miss in the series.
Crystal City Guild – John Fontana, Sierra McIntyre
The underground rain forest discovered by Elly St. Clair in Ghost Hunter makes an appearance in Dark Light, as Sierra McIntyre and John Fontana work to discover the identities of those behind a conspiracy to distribute a highly addictive drug to burned-out hunters.
This book is a great addition to the series. Although not advertised as an addition to the Arcane Society books, this one does reference the Arcane Society at one point, which I thought was neat.
I picked up Dark Light on Friday evening and read it Saturday. Although the mention of the Arcane Society was interesting, it didn't change the flavor of the book, which was nice. I like the Arcane Society books, but there's a definite difference between them and Jayne Castle's Ghost Hunters books.
I'm a bigger fan of Jayne Krentz's older Amanda Quick books because the characters of those stories share more in common with the characters of her paranormal series. Strong male leads, intriguing and fascinating female leads, lots of plot, but a definite focus on the romance developing between the characters. Some of the newer Amanda Quick and Jayne Krentz books lack the really strong male leads. The stories are still good overall, but that's a particular bit that I've missed lately. The romance has been downplayed in favor of the story's plot. To some degree, this story isn't as romance-centered as some of the other books in the Ghost Hunters series, but it's fun to read.
Obsidian Prey
I really liked this book but I never got around to writing a review for it.
Midnight Crystal
Part of the Dreamlight Trilogy.
I've written a review of Midnight Crystal.
Canyons of Night
Part of the Looking Glass Trilogy.
See a recent post for more information about Canyons of Night.