Book Trailers and Videos for Jayne Ann Krentz's Books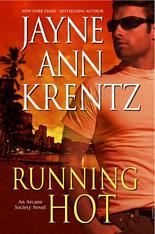 Jayne Ann Krentz has released a book trailer for her latest book, Running Hot. As more trailers become available, I'll put them up. I love these things!
The first trailers were for her Jayne Castle books in the Ghost Hunters series. While I really liked the Dark Light trailer, I really like this one for Running Hot. I'm not sure which is my favorite—but I don't really have to pick. I can have two favorites.
Running Hot
This book trailer is for Jayne Ann Krentz's Running Hot. I like the music and the way the aura's were put into the trailer. It's a great teaser for the book.
Running Hot
(Luther Malone, Grace Renquist) :: I really like this book trailer