A Talent For War by Jack McDevitt was an intriguing read that I enjoyed quite a bit, not so much for the science fiction, but for the mystery.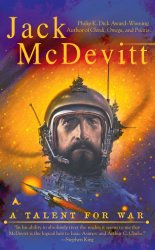 From the publisher: "The acclaimed classic novel and fan favorite—the far-future story of one man's quest to discover the truth behind a galactic war hero."
If I had to label this book, I'd call it science fiction mystery. There are plenty of intriguing sci-fi elements present in the book, but the fact is, the mystery is what propels the story onward.
A Talent for War is book 1 of the Alex Benedict series.
This was a good story, one that kept me intrigued up until the end. I'm definitely interested in reading the follow up books in the series.