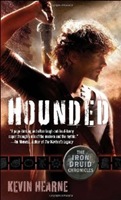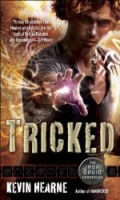 UPDATED.
[Original, Nov. 2011] I recently ran across a series I hadn't read before, The Iron Druid Chronicles fantasy series by Kevin Hearne. I downloaded the free sample available (for my nook, but there's a free sample for the kindle too) and read it. I now know that I'm going to read this book, because the sample of chapter one that I read was excellent. The writing was crisp and the story entertaining. Atticus is a hero I want to spend some time getting to know, so the Iron Druid Chronicles has just made it onto my must-buy list.
The Iron Druid Chronicles is about a long-lived Druid who has made a home in Tempe, Arizona running an occult shop. Atticus O'Sullivan is 2,100 years old and has made a point of staying out of the way of certain other unpleasant magical beings but in Hounded, he's just been found by Aenghus Óg, the Celtic god of love, who wants Atticus's magical sword.
[Updated] This is an urban fantasy series that includes 7 books to date. Each book follows Atticus and a myriad of trials and troubles. The books seem to have a wide appeal and lots of readers who enjoy the humor and fun, along with the excellent writing. I loved Hounded.
The Iron Druid Chronicles Books
Hounded
Hexed
Hammered
Tricked
Trapped
Hunted
Shattered
You can get these books as audio books, paperbacks, or ebooks (I have the ebooks).
There are also some short stories around and two novellas: Grimoire of the Lamb and Two Ravens and One Crow.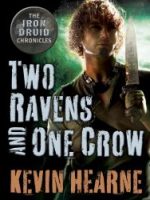 I recently finished reading Hounded and have moved on to Hexed because Hounded was such a fun read.