The next historical installment in Amanda Quick's (aka Jayne Krentz's) Arcane Society novels will be available in April 2009. I'm excited to see another historical installment because I really enjoyed The Third Circle. You can see my comments at the bottom of the Arcane Society page on StoryHeaven.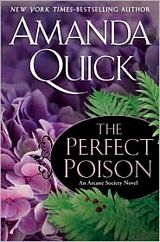 The Perfect Poison
Book Description
A notorious lady botanist with a reputation for having poisoned an unwanted lover becomes passionately involved with a dangerous gentleman who uses his psychic talents to solve murders. For those who are following the Arcane Society series, this is the eagerly awaited story of Caleb Jones and the founding of Jones & Jones, the Society's psychic detective agency.

And…

In Victorian London, spinster botanist and psychic Lucinda Bromley meets her match in Caleb Jones, a member of the Arcane Society and descendant of an alchemist family that makes him "the stuff of myth and legend." Together, this paranormal pair of snoops sets out to track down a thief who made off with a dangerous plant implicated in the death of a wealthy lord, but wind up uncovering a sinister secret order.
I'm very much looking foward to this book. :)