I read Midnight Crystal by Jayne Castle recently, and I loved it. :) Although I was concerned about how well I would like the intertwining of the Arcane series with the world of Harmony, I think Midnight Crystal set my fears to rest.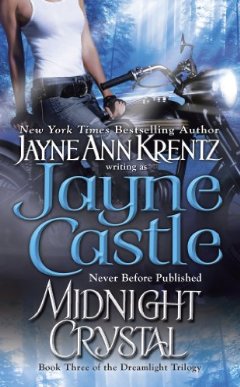 Midnight Crystal
Dreamlight Trilogy Book 3
Midnight Crystal by Jayne Castle (Paperback)
Midnight Crystal by Jayne Castle (Kindle)
Midnight Crystal by Jayne Castle (Other ebook formats)
Book Description
Book Three of the Dreamlight trilogy.

For many earthly centuries, a legendary curse has plagued the Winters family, stemming from the tumultuous founding of the Arcane Society. But now, on the futuristic world of Harmony, the curse's final mystery will be unraveled…

Head of the ghost hunters guild Adam Winters and dreamlight reader extraordinaire Marlowe Jones must break the curse, save Harmony's entire underworld-and fight a passion that could destroy them both.
I've always enjoyed the Jayne Castle books by Jayne Ann Krentz. Midnight Crystal is an interesting melding of her Harmony universe and the Arcane series and is the third book in the Dreamlight Trilogy that started with Fired Up by Jayne Ann Krentz and continued with Burning Lamp by Amanda Quick. Although they're all written by the same author under different pseudonyms, the books share a connected story.
Although I've read all three books, I believe the books can be enjoyed just fine if you haven't read any of the others. Ms. Krentz takes the time to slip in enough backstory so that you can figure out what's going on without becoming lost.
Midnight Crystal was fun, exciting, romantic, and all around enjoyable reading. Try it.
Also, check out the next Jayne Castle book tied to the Arcane & Ghost Hunter/Harmony series, Canyons of Night.